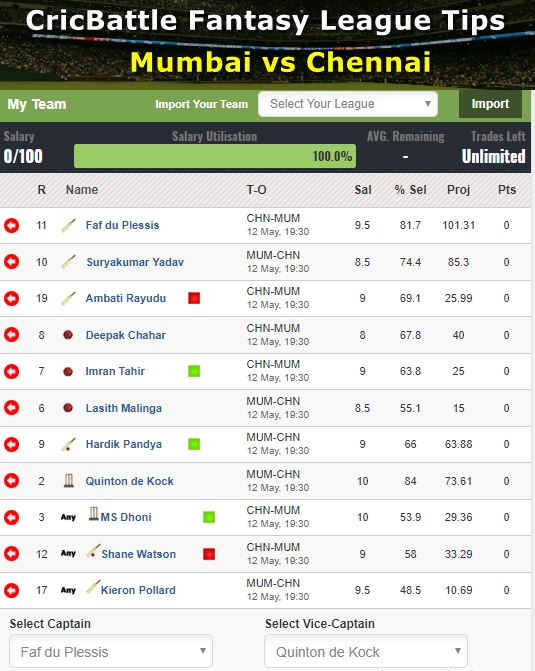 CricBattle Daily Fantasy Cricket League Tips
Mumbai vs Chennai on May 12
We are finally at the stage in the Indian T20 League 2019 which we all were waiting. The Indian T20 League 2019 final is here, and the top 2 teams from the league stages will be competing for the biggest T20 prize in world cricket. Mumbai took the direct route of getting to the finals by winning a thriller against the Chennai in the first qualifier. That result meant that the Chennai had to beat a spirited young Delhi team yesterday at the second qualifier. Both Chennai and Mumbai are set to lock horns and take hold of the trophy for the 4th time. The defending champions, Chennai, will win a second time in a row if they win this season. Mumbai have already beaten Chennai at the first qualifier. Hence, they will draw confidence from the kind of performance they produced with Chennai. Both the teams have played 27 matches together in the earlier matches, out of which Mumbai succeeded in winning 16 games while Chennai has won 11. Tomorrow is the fourth encounter between the two during this season. During the three earlier meetings this season, Mumbai has succeeded in beating Chennai.
Best economical pick – Deepak Chahar has been CSK's go-to man for breakthroughs early on. He has the ability to swing it up front and Dhoni, unlike the previous year, likes to hold one Chahar over back for the death.
Top captains & vice captains – In his last four matches, Faf du Plessis has scores of 39, 96, 6 and 50. The numbers show the fact that the South African batsman is in ominous touch. In the second Qualifier, Faf got a much-needed half-century. Moreover, the last time he batted at the RGI Stadium, he racked up 45 runs off 31 balls. Quinton de Kock has been MI's best batsman in the top order. He's led the charge with 500 runs this season. He will be looking to cap off a brilliant season on a high and score as many runs as possible and set the tone of the innings as well at the top.
Smart pick – The middle-order finally seems to be getting their act together for MI. Suryakumar Yadav finally ended his run of getting the middling scores of 20s and 30s. He scored a match-winning 71 as he took MI home. It wasn't an easy surface to bat on but he played beautifully.
Cautious Pick – Rohit Sharma blew a tad hot and cold in the first half of the tournament, but he gradually got the substantial scores under his belt. In 14 matches, he has scored 390 runs at an average of 30. Nevertheless, all those efforts would be of no use, if he fails to take his team home. In Mumbai's previous game versus the Super Kings, Rohit got out for four to Deepak Chahar.
My XI – Faf du Plesis (Captain), Quinton de Kock (Vice-Captain), Imran Tahir, Deepak Chahar, Suryakumar Yadav, Lasith Malinga, Ambati Rayudu, Kieron Pollard, Hardik Pandya, MS Dhoni, Shane Watson
Blog Comments
Use a Facebook account to add a comment, subject to Facebook's Terms of Service and Privacy Policy. Your Facebook name, photo & other personal information you make public on Facebook will appear with your comment.