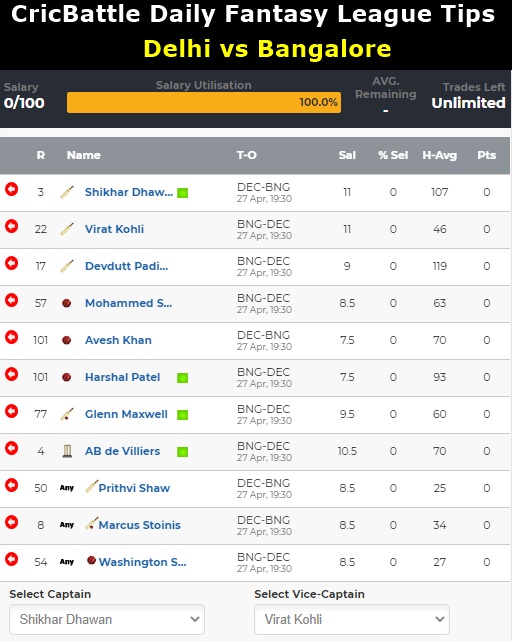 CricBattle Daily Fantasy Cricket League Tips
Delhi vs Bangalore on April 27
It took a terrifyingly on-song Chennai Super Kings to halt the unstoppable Royal Challengers Bangalore, who took a 69-run beating in their face to record their first defeat in 2021. One-third of the tournament has concluded, and having escaped it nearly unbeaten gives RCB completes permission to push the "this year the cup is ours"/"Ee sala cup namde" narrative with full force. What will alarm them for the moment is that their Net Run Rate boost has been wiped off by the crushing defeat handed to them by the Ravindra Jadeja-inspired yellow army. A Sunday that started with RCB placed at the top of the table with a +1.00 NRR, ended with them being third, NRR +0.09. And we now know why Virat Kohli was breathing caution in his approach, stating that "momentum can go just as quickly." Against the Super Kings, it was one of those days when almost everything went awry for RCB. They were ruthless during their 10-wicket win over Rajasthan Royals, and pretty much ended up tasting their own medicine against CSK ever since Daniel Christian dropped a sitter when Jadeja was yet to get off the mark. As if that had set a domino fall, they lost control over everything, with a bamboozled Kohli witnessing his best death-bowler, the Purple Cap holder, one who had 3/14 from his three overs until the final over, leaking 37 runs in one, which included five sixes. Despite all that going against them, that the Challengers bossed the Chennai leg of the tournament, winning three in three, while they ended Mumbai with a pleasing 1-1 win-loss result, cannot be denied. Moving to Ahmedabad might not scare them as much after the kind of results they generated in Chennai. Having led India to a 3-2 victory over England in the recent series, Kohli might have a strategic edge going towards a new challenge. Their rivals on Tuesday, the Delhi Capitals, triumphed in super over against SRH and sit right in the top territory with an identical 4-won-1-lost record in the points table. Capitals will have some adjustments to make themselves as they move to a new destination, but they will be glad to fly from Chennai with two wins in as many games.
Best economical pick – Devdutt Padikkal was in blazing form against the 'Men in Yellow', and scored a whirlwind 34 at a strike rate of 226.67. Padikkal has scored 171 runs in the 14th IPL edition at an excellent average of 57.00 and a whopping strike rate of close to 160.
Top captains & vice captains – Shikhar Dhawan has been in sublime touch with the bat this season. He has amassed 259 runs in five innings and is striking at 142.30. Dhawan has recorded just one score of under 25 so far. The left-handed opener has also done well against RCB, scoring 566 runs which includes six half-centuries. Thus, not only against RCB, Dhawan has been scoring big runs consistently and his contribution in the field is very good too. Thus, he will be one of the top captaincy choices. Virat Kohli may have failed in the last game. The RCB skipper scored just 8 against CSK but he has contributed well in the previous games. He has a couple of 33s and a splendid 72 not out. Hence, expect him to roar back amongst the runs. Moreover, he faces a favourable opposition. Kohli loves playing against Delhi. He has amassed 897 runs at an average of 59.80 and a strike-rate of 136.52 against them which also includes 8 half-centuries.
Smart pick – Glenn Maxwell is currently the leading run-scorer for RCB in this IPL 2021 as he has scored 198 runs in four innings with the help of two half-centuries and all these runs he scored at Chennai. His scores in the first three matches of this season were 39, 59 and 78 runs respectively.
Cautious Pick – In the 3 matches that he has played thus far for the Bangalore outfit, Daniel Christian has not been impressive. He has scored just 3 runs in 3 innings with the bat and has not picked up even a single wicket with the ball.
My XI – Shikhar Dhawan (Captain), Virat Kohli (Vice-Captain), Devdutt Padikal, Glenn Maxwell, Mohammad Siraj, Avesh Khan, Harshal Patel, AB de Villiers, Prithvi Shaw, Washington Sundar, Marcus Stoinis
Blog Comments
Use a Facebook account to add a comment, subject to Facebook's Terms of Service and Privacy Policy. Your Facebook name, photo & other personal information you make public on Facebook will appear with your comment.